home page
original compositions
final fantasy music
video game music
theme songs
audio recordings
midi for beginners
about me
midi & web-authoring links
award room
message board

- fixed!


guestbook
my mailbox



Audio Recordings
Wave Files and MP3's


Senior Recital Page now up as of June 15th, 2004!


Senior Recital - Live Piano Compositions - Live Orchestral Compositions - Choir Performances - Piano Recitals

MIDI Files are wonderful tools. However, they cannot replace acoustic performances. Therefore, I've dedicated this page to recordings of various performances I've participated in. Namely, these include composition, piano, and choir selections.

There are also a lot of clips on the Senior Recital page so please check that out! The recordings from that concert include live versions of several of my original orchestral pieces, Final Fantasy (Nobuo Uematsu) and Dragon Quest (Koichi Sugiyama) songs performed live, and lots of choral music, including madrigals, some arrangements of my pieces and video game tunes!
Piano Playing at Age 15
These exciting recordings are taken off of a low quality tape I recorded with a simple recorder at age 15 to archive some of my very first compositions. Friends of mine for Christmas 2003 found these tapes and had them touched up and put on CD - so here is the result!
Creeping Chaos
by Aaron Walz
feat. Madonna sample by coincidence!

creepingchaos.mp3
MPEG Layer 3 format

Rainlets
by Aaron Walz
concept by Barbara Carney

rainlets.mp3
MPEG Layer 3 format

More Recent Work:
In the spring of '98, I had the priveldge of performing "Remembering the Melody" live with three excellent musicians and fellow students; it was one of the most exhillerating things I'd ever done. I hoped one day to do it again, and my wish came true. I joined forces with two musicians from my first arrangement and we performed an extended version of "The Jellyfish." The last arrangement here is a piano prelude to my piece "From Another Shore." My college career culminated with my recital, in which we performed many of my pieces! While MIDI is an important composition tool, one cannot forget about the beauty and excitement of an acoustic performance!

SSU is lucky enough to have Bob Worth as a choir director. I am the lead tenor in his small elite ensemble, the Chamber Singers. Our choir and the Sonoma County Bach Choir, also directed by Worth, performed for the Dolby Digital Trailer for Star Wars and toured Italy twice, performing in many cities including the Vatacan, where we sang in St. Peter's Basilica.
Please contact Me or Bob Worth to purchase our excellent professionally recorded albums! Or visit www.sonomachoral.org !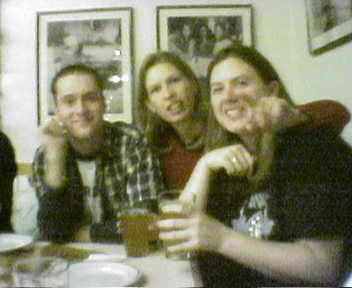 Me & my alto buddies Ana & Melanie
after our Mozart Requiem concert with the Santa Rosa Symphony, Fall 2003.
Spring 2003 Josquin Concert
Recorded at Mont LaSalle Christian Brothers in Napa, Califonia by Matthew Champagne:
Scaramella
by Josquin

Performed during the Spring 2003 season

scaramella.mp3 (668 KB)
MPEG Layer 3 format

In Te Domine Speravi
by Josquin

Performed during the Spring 2003 season

intedominesperavi.mp3 (2.55 MB)
MPEG Layer 3 format

El Grillo
by Josquin

Performed during the Spring 2003 season

elgrillo.mp3 (1.71 MB)
MPEG Layer 3 format
Tracks recorded at Lucas' Skywalker Ranch
Set Me as a Seal
by René Clausen

Performed with the Bach Choir
during a recording session at Skywalker Ranch

SetSeal.mp3 (2.2 MB)
MPEG Layer 3 format

Tra Mille Fiamme
by Claudio Monteverdi

Performed during a recording session at Skywalker Ranch

TraMille.mp3 (1.7 MB)
MPEG Layer 3 format
Italian Concerts:

I have studied piano on and off since I was ten years old. I finally started taking lessons in college from the wonderful teacher and performer, Marilyn Thompson. She knows just about the entire piano repertoire. Anyhow, here's me playing a Steinway grand piano in concert.
this page was composed by Aaron Walz using Notepad and Microsoft FrontPage; 2004-2008
request permission for use of any music
Last Modified on 08/22/08